TAXATION SOFTWARE
Spectrum Gold
Spectrum Gold Plus
Spectrum Platinum
Spectrum Platinum Plus
Spectrum Diamond

DIGITAL SIGNATURE
DSC-Class2
DSC-Class3
Other DSC Forms

E-tokens
Epass 2003 Auto
Aladdin / Safenet 5110

CUSTOMIZATION OF
WEB APPLICATION
PrintOnWeb.in
Tendergraph.com

DIGITAL MARKETING
Search Engine Optimization
Social Media Optimization
Search Engine Marketing
Social Media Marketing

MOBILE APPLICATION
Your-Business
A responsive multipurpose Theme
For Your Prestigious World !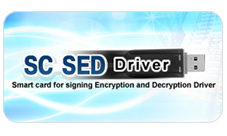 SC SED Token Driver
Smart Card for signing Encryption and Decryption Driver
Minimum System Requirement: Pentium IV compatible USB enabled PC, 2 GB disk space, 1 GB RAM, Windows XP or above.
New Gemalto Token Driver
Version
1.3.006
Date published
11/04/2015
Product Name
SC-SED Setup New
Used For
Window 7 and Onward
File name
scsed_setup_1.3.006.exe
Size
19.00 MB
DOWNLOAD
For Advanced Users
Version
2.11.10
Date published
16/12/2013
Product Name
SC-SED Driver (for CD burning)
Recommended
If you want to just download the tool dn install on other PCs
File name
SCSED Driver Full.exe
Size
84.5 MB
DOWNLOAD
Copyright © 2007 SNS Solutions Private Limited, All Rights Reserved.